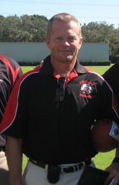 Tom McHugh graduated from Trident Technical College (TTC) in 1978 with an associate degree in electronic engineering technology. He spent 17 years as a field engineer working for Fortune 500 companies before going back to school to get a bachelor's degree in technical education. He spent the next 17 years teaching high school students. Now, he has a master's in industrial technical education. He is also certified to teach science and gifted students. The past few years he has been the athletic director and head football coach at Pasco High School in Dade City, Florida.

Would you say that your experience at Trident Technical College "changed your life?"
I followed my parents to South Carolina from Florida and worked in an oil refinery in Charleston. Even though it was backbreaking work, it allowed me to go to school during the day at TTC. I wanted to finish quickly so I took eight classes at a time. My education at TTC has affected the rest of my career. I wanted to teach; so I received both my undergraduate and graduate degrees in technical education.

Why did you initially decide to enroll at Trident Technical College?
I initially decided to enroll at TTC because it allowed me the opportunity to meet a short-term goal quickly. I married my wife early in life, and I needed to finish school so that I could move into the workforce. I was interested in electronics, and TTC seemed the perfect fit for a good education and immediate entry into my field.

What were the primary factors that affected your academic success at TTC?
The small class size and the fact that I spent most of my day with the same group of students and the same instructors meant that we quickly established a camaraderie that allowed for open communication. We were really like a family. It is hard not to succeed when you have a supportive family and one-on-one attention from instructors.

Did you receive any support from TTC faculty, staff or even your fellow students that was especially helpful for you?
The expectations were clear from my instructors and even from my fellow students. It really would have been hard to fail when we were in such a supportive environment.

Do you feel TTC prepared you for your current career, and if so, in what ways?
I always say that when you are young you don't know what you don't know. When you are a teenager, you are looking only 6 hours ahead. I tell my football players and students that you need to look further into the future. Really, my entire career has been based on what I learned at TTC. I am so glad that I stuck with it even when I was working and going to school full-time. I know that many of my students over the years have benefited from what I learned at TTC and passed on to them.

Where do you see yourself in five years?
I hope to continue to coach football. If not, I would like to teach technical education or science. I also stay current with professional development so that I can have options in my career.

Is there anything else you would like to share with us in regard to special accomplishments, honors, awards, employment, etc.?
I was promoted through the Fortune 500 companies pretty quickly. I became manager pretty early on at age 30. I consider myself a continuous student constantly learning and staying current with new technologies, etc.