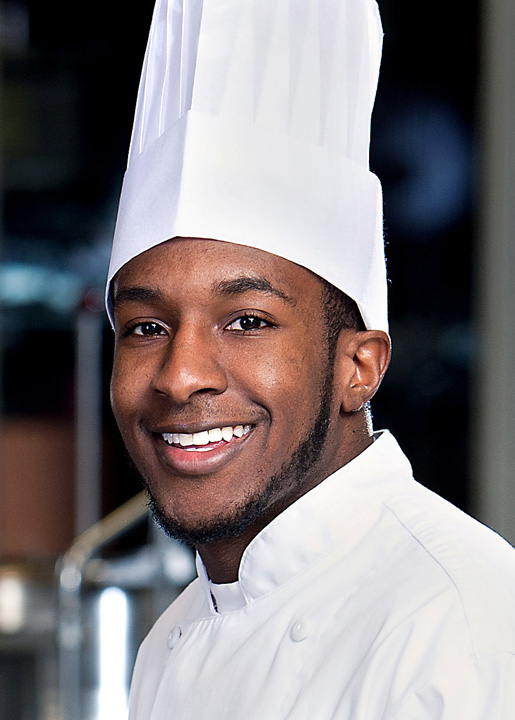 Othel Plowden graduated from TTC in 2009 with an associate degree in Business, Culinary Arts Technology.  He then transferred to USC-Beaufort, where he is currently enrolled in the bachelor's program in hospitality and tourism management.  Othel also has a job at the premier golf club Colleton River Plantation, and he recently was elected treasurer of the student group for the Club Managers Association.
Why did you enroll at Trident Technical College?
I enrolled at Trident Tech because it had a culinary program and was close to where I lived.  I had a heard a little bit about the program and was interested in starting my culinary career.
What were the primary factors that affected your academic success at TTC?  
My success relied heavily upon the instructors and their help inside and out of the classroom. The faculty members at CIC have a vast amount of experience and are always willing to pass that on to the students in every way they can.  My work experience also helped to enhance my classroom effectiveness.  I had the privilege of working at Slightly North of Broad with the magnificent Chef Frank E. Lee while attending the Culinary Institute of Charleston.
Did you receive any kind of support from TTC faculty or staff members that was especially helpful for you as a transfer student?
I received a lot of support from my advisors about which college and campus I should attend, as well as the best way I could accomplish my ambition of obtaining my BA.
You received three scholarships while you were a student at TTC.  How did these affect you?
The scholarship support I received while I was in school helped support me in paying my bills and covering the cost of my books and uniforms, but, most importantly for me, it allowed me more time to dedicate to activities outside of my curricular and working schedule. I spent a lot of volunteer time helping Nadine Miller mentor and teach the students at the high school I graduated from (Fort Dorchester). I had countless opportunities to help the school with functions, and my scholarships afforded me the opportunity to be an active volunteer. The South Carolina Tourism and Hospitality Education Foundation and the National Restaurant Association Educational Foundation have contributed greatly to my success as a student and my abilities to excel in these endeavors, along with scholarships offered through Trident Tech.
Why did you pick USC Beaufort to complete your BA degree?
The USCB campus had a hospitality management program, and it was centralized around an area of clubs and various restaurants.  Beaufort is also a big international destination, so I could use this to work at different places to get a feel for where I would like my career to advance.
Are you receiving any scholarship support at USC Beaufort?
I received a scholarship from the American Institute of Wine and Food (Hilton Head Chapter).
Do you feel TTC prepared you well for success at USC Beaufort?
I believe that TTC prepared me very well for success, especially in terms of being orderly, punctual and responsible in my endeavors.