Nov. 8, 2019 - Trident Technical College celebrates opening of the South Carolina Aeronautical Training Center
Trident Technical College officially opened its new $80 million South Carolina Aeronautical Training Center Friday, Nov. 8, with a ribbon cutting and tour of the 218,000-square-foot facility (including ramp) located on the college's Thornley Campus in North Charleston.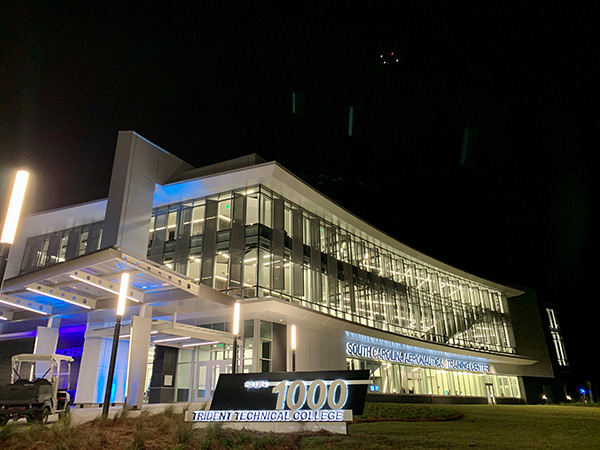 Invited guests gathered in one of the center's aircraft hangars for the opening ceremony with remarks by Gov. Henry McMaster; Sen. Hugh Leatherman, Senate Finance Committee Chair; Anita Zucker, CEO, InterTech Group; Elliott Summey, Chair, Charleston County Council; Lane Ballard, Vice President of Boeing South Carolina 787 Delivery and Paint; and Dean Marsh, Managing Director, Dassault Systèmes.
The hangar door was raised, and Dr. Mary Thornley and the guest speakers officially opened the center by cutting a ribbon. Following a light show set against a backdrop of airplanes positioned on the aircraft ramp, guests explored the hangars, outfitted with a section of a Boeing 787 fuselage, a flight simulator and other aircraft training aids. A self-guided tour of the three-story building provided the opportunity to see the many training labs equipped with high-tech advanced manufacturing equipment.
College officials initially envisioned a center that would primarily serve the needs of the state's growing aerospace industry and the desire of South Carolinians to prepare for jobs in the aerospace sector. However, after Volvo Cars and Mercedes Benz Vans announced plans for manufacturing facilities in the Lowcountry, the college expanded the scope of the facility to encompass a broader mix of advanced manufacturing technology training.
The center includes an aircraft ramp, two hangars with high bays to accommodate a variety of aircraft and large aircraft training aids, 22 classrooms, 25 specialty labs, six flex-space labs, 37 offices, meeting spaces, a café and catering kitchen. The center's labs and classrooms are equipped with cutting-edge industry-standard technology, including programmable robotic equipment, 3D printers and computer numerical control machines. The center also has composite material labs where students will learn to manufacture and repair the strong, lightweight structural material used in airplanes, vehicles, boats and other applications.
Previously, the college's aircraft assembly, aircraft maintenance and avionics programs were spread across two campuses and five buildings. The new center houses all of the college's Aeronautical Studies programs and provides space for other applied engineering academic programs, as well as continuing education courses and customized training in advanced manufacturing. ReadySC's Boeing Training Center, where pre-employment, new hire and skill enhancement training for BoeingSC is held, is located on the building's third floor. An estimated 5,370 students and 120 faculty and staff will use the facility annually.
"South Carolina has become a manufacturing hot spot, and this center will help sustain the state's economic expansion by supplying the highly skilled workforce required by manufacturers and related industries that have made substantial investments in our state," said TTC President Mary Thornley.
Thornley said the facility was designed to accommodate school tours and other events that will showcase the college's hands-on training capabilities in manufacturing and related fields. "This will be not only an instructional space, but also an inspirational space that will ignite a spark in young minds to pursue high-tech, in-demand jobs with high wage potential," she said. "Students don't get excited about something until they can see, touch and experience it. This is where that magic will happen." 
Construction funding came from local, state and federal sources. The South Carolina legislature provided $48.4 million. Charleston County provided $18.75 million. The City of North Charleston provided $1 million in cash and $337,000 in road work. Trident Tech invested $8.1 million in cash and land. The college also received $2.47 million in federal grants. The Zucker family provided an additional $6 million as a sustainability gift.
During the opening program, the college announced an educational partnership with Dassault Systémes, a software company that develops 3D design and engineering software used by major manufacturers including Mercedes Benz, Volvo and Boeing. The partnership will help address talent gaps by providing the training necessary to create the workforce of the future. Dassault and Trident Tech will establish the first Dassault innovation center in the Southeast, called the 3D Experience Center, which will be housed in the S.C. Aeronautical Training Center. Dassault is making a substantial investment toward the creation of the 3D Experience Center by providing Dassault 3D Experience software, cloud support for the 3D Experience platform, and paid internships for student support and mentoring. Professional development workshops for industry representatives and continuing education programs leading to certification in Dassault software will also be held in the 3D Experience Center.
LS3P Associates and T.Y. Lin | Lindbergh of Charleston designed the center. T.Q Constructors performed the site work including roads and utilities, and Turner Construction Company built the building. The new building was designed and built to meet green building and energy efficiency standards for high performance in the areas of project management, site, energy, water, resources, emissions, and indoor environment. The building's design provides many sustainable features including a solar array that will provide approximately 210 kilowatts of power, enough electricity to power 33 typical houses. The building received New Construction certification from the Green Building Initiative, including the achievement of a Two Green Globes rating.
Oct. 28, 2019 - TTC students capture the transformation of Charleston's Eastside for Palmer Campus's 2019 Eastside Day
Trident Technical College's Palmer Campus will take a look at the transformation of Charleston's Eastside as part of their 2019 Spirit Week. Highlighting the week of activities will be an art gallery opening Wednesday, Oct. 30, featuring the work of TTC photography students showing the physical transformations of Charleston's Eastside where the college's downtown Charleston campus is located.
Some of the buildings have kept their familiar past. Some did not fare as well as others, and new houses and businesses have taken their place. The project shows that all grow from one stage of life to another as the Eastside changes and transforms. The gallery opening will take place from 6-7 p.m. and is open to the public.
The Palmer Campus will continue to capture the transformation of the community on Eastside Day Friday, Nov. 1, starting at noon. The campus will hold a panel discussion with representatives from the Eastside Community, along with presentations made by former TTC instructor Susan Millar Williams, co-author of "Upheaval in Charleston: Earthquake" and "Murder on the Eve of Jim Crow," and Michele Moore, author of "The Cigar Factory: A Novel of Charleston."
From the American Revolution to the explosion of tourism, Charleston's Eastside neighborhood, developed as a high-end subdivision called Hampstead by slaveholder Henry Laurens, has, like the city itself, endured wars, natural disasters, economic booms and busts, and demographic shifts. Millar will present a lightning-round sketch of how historic Hampstead has evolved in response to challenges and opportunities. Moore will be speaking about the history of the cigar factory, including information about the historic 1945 strike which gave rise to the Civil Rights Anthem, "We Shall Overcome."
Spirit Week is held annually to celebrate the students of TTC and the heritage of the Eastside Community. Spirit Week 2019 will take place Oct. 28-Nov.1. In collaboration with TTC's Film, Media and Visual Arts department, the Palmer Campus Spotlight Committee and the Early College High School, Palmer Campus has planned a week of student-driven activities that the community and TTC students, faculty and staff are invited to attend. All events are free.
A Spirit Week Kickoff will be held on Monday, Oct. 28, and followed by a Health Expo on Tuesday, Oct. 29, a College Transfer Fair on Wednesday, Oct. 30 and a Safety Awareness event on Thursday, Oct. 31. The week will conclude with Eastside Day.
For times and locations of Spirit Week 2019 activities, see the attached flyer. For more information, contact Regina Smart at regina.smart@tridenttech.edu or 843.722.5562.
Aug. 2, 2019 - Charleston Regional Youth Apprenticeship program celebrates
new class of apprentices at Signing Day 2019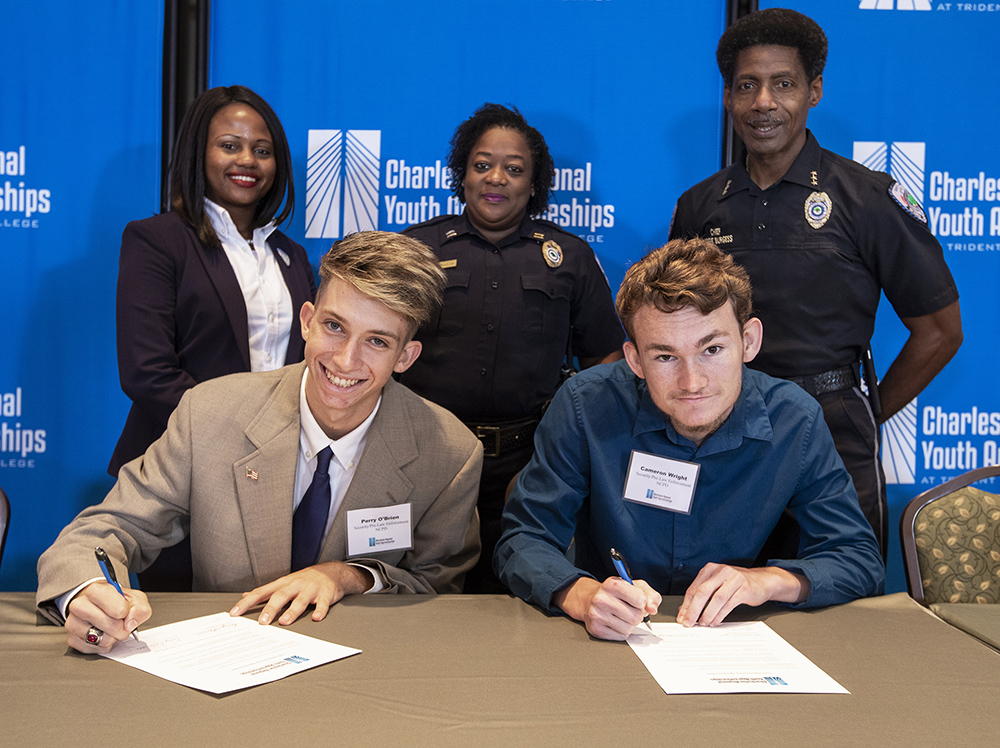 The Charleston Regional Youth Apprenticeship (CRYA) program celebrated career education with hundreds of students, business leaders, educators and special guests at the Signing Day 2019 breakfast held Tuesday at the College Center on TTC's Thornley Campus in North Charleston.
The breakfast, sponsored by Partnership to Advance Youth Apprenticeship (PAYA), began with opening remarks from PAYA's Senior Policy Analyst Taylor White. The event was highlighted by a panel discussion facilitated by TTC President Mary Thornley with former youth apprentices Dakota Duncan (graduate of Berkeley High School), Jessica Garcia (graduate of Fort Dorchester High School), Charles Gries (graduate of Charleston Charter Math and Science) and Ty'Celia Young (graduate of Garrett Academy of Technology), who discussed how their apprenticeships changed their lives.
The discussion was followed by remarks from State of South Carolina Lieutenant Governor Pamela Evette, U.S. Department of Commerce Deputy Secretary Karen Dunn Kelley and White House Deputy Assistant to the President for Technology Policy Michael Kratsios. 
Following the program, youth apprentices officially signed with their employers representing Automotive, Bookkeeping, CNA/Pre-Nursing, Culinary Arts, Cybersecurity, Emergency Mechanical CAD Technician, Engineering Assistant, Hotel Operations, HVAC, Industrial Mechanics, Machine Tool Technology, Medical CAD, Medical Office Assistant, Networking, Security/Pre-Law Enforcement and Welding.
Through CRYA, Trident Tech connects qualified high school students with participating employers. The employers interview and hire the students, who then begin employment while taking high school and college courses. At the completion of the apprenticeships, students will have earned a high school diploma, a TTC certificate, a journeyman credential from the U.S. Department of Labor and two years of paid work experience.
All costs associated with the program, including tuition, books and most materials for apprenticeship-related courses at Trident Technical College, are covered while apprentices are working for a participating employer. Currently, there are over 160 business partners who have or are interested in hiring youth apprentices for the 2019‐20 academic school year.
May 8, 2019 - Trident Technical College honors employees for years of service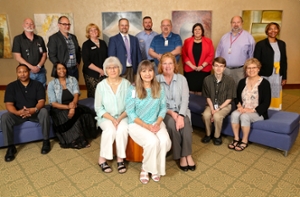 Trident Technical College honored 50 employees for their years of service at the college May 1, at the Thornley Campus in North Charleston. Employees were honored for 10, 20 and 30 years of employment with a breakfast and token of appreciation.
TTC 10 years of service: Pictured at right are employees who were recognized for 10 years of service at TTC, (top row) Michael Hodge, James Sidletsky, Judy Martin, Marshall Connor, Scott Henning, Mark Hunter, Angela Wimberly, Richard Latham, Kathy Simmons, (bottom row) Terrance Johnson, Michelle McClennon, Brenda Clayton, Tamara Lipsey, Jarae Szydlowski, Doyle Brooks, Joyce Svensen.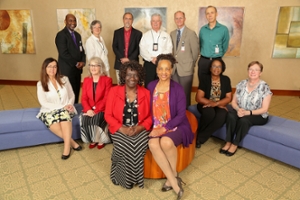 TTC 20 years of service: A total of 18 employees were recognized for 20 years of service at TTC. Pictured at left are (top row) Randy Grimes, Suzy Chandler, Barry Franco, Bob Walker, Joe Potter, Thomas Fitzmaurice; (bottom row) Connie Jolly, Helen Sughrue, Hernetha Goodman, Melicent Middlebrook, Sylvia Blake, Cathy Elrod.
May 8, 2019 - Nursing Graduate Kristin Welborn receives Dr. Patricia L. Kurtzman Memorial and Alumni Association Prize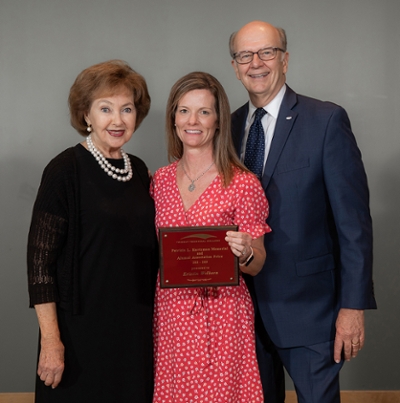 Trident Technical College honored several students and faculty members for their outstanding achievement and involvement in student organizations at TTC's Awards Day ceremony held Thursday at the college's Thornley Campus. Among the honorees was the top award winner of the day, nursing graduate Kristin Welborn of Mount Pleasant.
Welborn was honored with the Dr. Patricia L. Kurtzman Memorial and Alumni Association Prize, the highest honor which includes a monetary gift given to a graduating student on the basis of academic achievement, contributions to the college and community service.
With an undergraduate degree from Georgia Tech in mechanical engineering and a graduate degree in mechanical engineering and biomedical engineering from the University of Michigan, Welborn worked in the field for several years, including work on projects such as developing stents for angioplasty procedures. She then stayed home to raise her children before deciding to embark on a new career through the nursing program at TTC.
Welborn started TTC in 2016 and graduated with an Associate in Science degree in Nursing in December 2018. Nursing instructor Gay Purcell describes her as "an exemplary student." Welborn finished the program with a 4.0 grade point average, which is rarely done in the nursing program due to the rigorous curriculum and demanding schedule of both clinical and classroom requirements.
"Kristin excelled in the classroom, but also provided kind, compassionate and thoughtful care to her patients in the clinical setting and worked well with patients, families and staff nurses in the local hospitals where she attended clinical," said Purcell. "Her quiet, humble, contemplative nature was respected by fellow students and her instructors, and she was always ready to greet with a smile."
Welborn not only met the rigorous academic demands of the program, but she also was an active member in two campus organizations, the Student Nurses Association and the Alpha Delta Nu Honor Society.
Upon graduation in December, Kristin passed her National Council Licensure Examination for Registered Nurses and became licensed as a Registered Nurse (R.N.) in the state of South Carolina. She is currently working full-time at East Cooper Medical Center as an R.N. in the Women's Services Unit where she cares for mothers and their babies, as well as women having gynecological surgeries.
May 8, 2019 -Outstanding students honored at Trident Technical College's Awards Day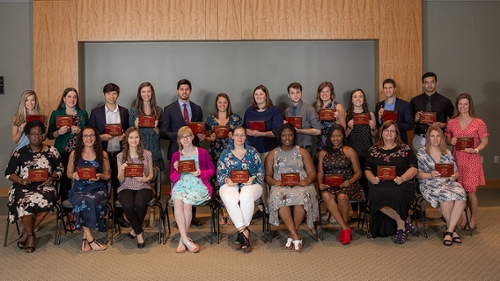 Trident Technical College students and faculty members were recognized for their outstanding achievement and involvement in student organizations at TTC's Awards Day ceremony held May 2, at the college's Thornley Campus.
The Patricia L. Kurtzman Memorial and Alumni Association Prize, the highest honor which includes a monetary gift given to a graduating student on the basis of academic achievement, contributions to the college and community service, was awarded this year to Kristin Welborn, a nursing graduate from Mount Pleasant.
Charleston branch manager Jim Goddard and President/CEO Jim Kinard were on hand to present the S.C. State Credit Union Award to Early Care in Education-Childcare Management graduate Kimberley Lookabill of Hanahan. This award, which also includes a monetary gift, is presented to a returning student who demonstrates a commitment to service, exhibits perseverance toward completing higher educational goals, displays commendable personal attributes, and serves as an exemplary role model to other students.
The Dr. Frankie Miller Leadership Award, in honor of the former dean of the Culinary Institute of Charleston (CIC), Frankie Miller, was awarded to Haruka Fukuoka of Ladson. Fukuoka was recognized with a $500 scholarship check from the Charleston Area Convention and Visitors Bureau and an award from CIC.
The Merit Award winners also were recognized by TTC President Dr. Mary Thornley for their academic and personal excellence, identifying each recipient as the top student in his or her program of study. The Merit Award winners are: Accounting-Danielle P. Thrower; Administrative Office Technology-Denise Toney; Associate in Arts-Kimberly A. Kovacich; Associate in Arts-Savannah Steele; Associate in Science-Quyen Nhi Tran; Associate in Science/Homeland Security-Sean Buckmon; Business Administration/International Business-Miguel C. Flores; Commercial Graphics/Animation-Bryanna Cantrell; Commercial Graphics/Graphic Design-Jeanne Rodick; Commercial Graphics/Photography-Natalie Moreau; Computer Technology/Computer Programming-Taylor C. Bailey; Computer Technology/Information Systems Specialist-Emile D. Chavis; Criminal Justice-Dawn Lewis; Culinary Arts Technology-Shanette Yvette Coad; Culinary Arts Technology/Baking and Pastry-Brigette Elmore; Early Care and Education/School Age and Youth Development-Heidi Rader; General Technology-Madison R. Watson; Hospitality and Tourism-Kara Bailey; Media Arts Production/Film Production-Walker L. Rounsefell; Media Arts Production/Television and Media Arts-Regan Budig; Medical Assisting-Teresa Labar; Medical Lab Technology-Emily Garrison; Network Systems Management-Joshua Chavis; Nursing-Kristin Elizabeth Welborn; Paralegal-Stephanie Hable, Pharmacy Technician-Asia Boyd; Physical Therapy Assistance-Mary Pace; and Radiologic Technology-Robert J. Williams.
There are approximately 40 student organizations at TTC in which students have opportunities to network with other students who have similar interests, gain additional practice in their fields of study, interact with future colleagues, and offer time and energy to community service. Three organizations were recognized with Outstanding Student Organization awards. Winning the top honor was the Student Nurses Association, followed by Student American Dental Hygienists' Association as first runner-up and Early Childhood Development Club and Society for Medical Laboratory Technology tied for second runner-up.
Awards of Distinction, given to student organizations that have won the Outstanding Student Organization award for more than three years, were presented to Society of Broadcasters and Phi Theta Kappa.
Outstanding Advisors and Outstanding Members of Student Organizations also were recognized. Society of Dental Assisting Advisor Katherine Moten tied with Phi Theta Kappa Advisor Chris Solomon for the top honor for Outstanding Student Organization Advisor. First runner-up was given to Heather Hobbs, advisor for Veterinary Technology Club, and second runner-up was given to Michelle Mantooth, advisor for Society of Medical Laboratory Technology.
Outstanding Student Organization Members included Elizabeth Brazell (Clemente Coalition); Heidi Radar (Early Childhood Development Club); Chloe Dawson (Pharmacy Technician Association); Angela Coxe (Phi Theta Kappa); Chesley Farnham (Physical Therapy Assistant Association); Christina Valipour (Radiologic Technology Association); Kyro Davis (Respiratory Care); Amy Burdette (Society for Dental Assisting); Amanda Mazza (Society for Medical Assistants); Kelly Grosskopf (Society for Medical Laboratory Technology); Jarrid King (Society of Broadcasters); Nicole Stolf (Student Accounting Association); Gabrielle Keating (Student American Dental Hygienists' Association); Brittany Potts (Student Nurses Association); Jabrae Lanning (Veterinary Technology Club); and April LaRoche (Visual Arts Club).
Graphic Arts Student Design awards were also presented to Kemi Ogunji and Deanna Halenkamp for their all occasion and birthday greeting card designs.
March 20, 2019 - Learn about LIFE Scholarship
Trident Technical College is holding a "Learn about LIFE" info session April 9 at 6 p.m. at Thornley Campus (formerly Main Campus, 7000 Rivers Ave., North Charleston, Bldg. 970/Rm. 108).
Many high school students and parents are unaware that there are fewer eligibility requirements to use the S.C. LIFE Scholarship at a two-year college than at a four-year college. This info session will provide additional information about eligibility, how to combine LIFE with other forms of financial aid, and requirements for keeping the scholarship.
For a complete list of suggested documents to bring, visit click here or call 843.574.6346.
March 6, 2019 - Top students, schools earn academic accolades at 33rd Annual QUEST Competition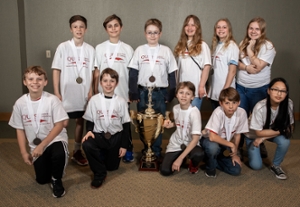 Approximately 1,400 students from 42 public schools throughout Berkeley, Charleston and Dorchester counties battled for top honors at the 33rd Annual Quest Academic Competition held Saturday at Trident Technical College Thornley Campus in North Charleston.
Students participated in four levels of competition: Level I-grade 6, Level II-grades 7-8, Level III-grades 9-10 and Level IV-grades 11-12. Students competed and earned points in team competitions in math, science and social studies, and in individual competitions including composition, public speaking and visual arts. Special competitions were held in automotive, computer aided design, computer programming, culinary, engineering design and construction, horticulture, Spanish, video/film and welding. Schools whose students earned the most total points won overall awards at each level.
 Overall awards were given to 15 schools. At Level I (grade 6), Camp Road Middle School won first place, Thomas C. Cario Middle School placed second and DuBose Middle School finished in third place. At Level II (grades 7-8), Moultrie Middle School took top honors, while Rollings Middle School of the Arts placed second and Palmetto Scholars Academy finished third. At Level III (grades 9-10), Academic Magnet High School claimed first place with Hanahan High School in second. There was a four-way tie for third place between Fort Dorchester, James Island Charter, Philip Simmons and Wando high schools. At Level IV (grades 11-12) Ashley Ridge High School won first place with Wando and Stratford high schools finishing in second and third places, respectively.
The Quest competition was developed by TTC to promote academic excellence, provide an academic challenge to students, and recognize top students, teachers and schools.
For a complete list of winners, click here.
Feb. 27, 2019 - Scholarship funds still available for Continuing Education courses through the Workforce Pathways Scholarship program
Scholarship funding is still available for several Trident Technical College Division of Continuing Education and Economic Development courses through the Workforce Pathways Scholarship (WPS) program that was approved by the South Carolina General Assembly in 2018.
Eligibility for a scholarship is not based on financial need or prior academic performance and scholarships are awarded on a first-come, first-served basis.
Courses in 11 Continuing Education Division programs qualify for the WPS funding which covers 100 percent of the tuition fees for those courses (books are not covered by the scholarships).
To apply, students must attend an orientation session to learn about the WPS program and obtain an application form. Orientations are scheduled at 10:30 a.m. Tuesday, March 5 and 6:30 p.m. Thursday, March 7 in Building 920, Room 507 at Trident Technical College Thornley Campus (formerly Main Campus), 7000 Rivers Ave., North Charleston.
For more information on WPS funds for TTC continuing education courses, visit www.tridenttech.edu/ce/funding/pathways-scholarship.htm or call 843.574.6152.