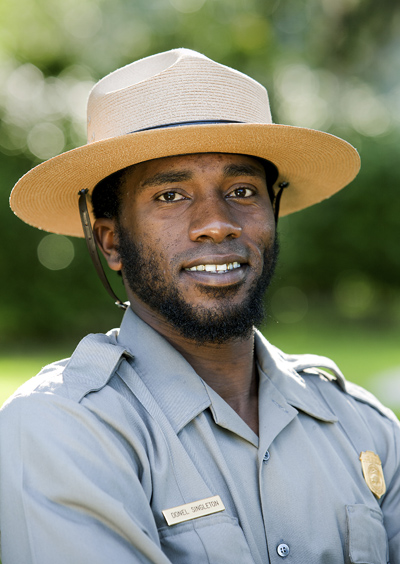 Donel  Singleton shares his passion for history with many visitors as a park ranger for Fort Sumter, Fort Moultrie and Charles Pinckney National Historic Site.  Yet Singleton says his successful second career with the U.S. National Park Service might not have been possible without the nurturing environment he found at Trident Technical College once he left the military.
Would you say that your experiences at Trident Technical College changed your life?  
Yes.  After graduating from Wando High School in 1996, I joined the United States Air Force, in which I served for more than six years.  My military career ended abruptly after a severe back injury required immediate surgery.  Following the surgery and extensive rehabilitation, I was medically discharged from the Air Force and returned home to Charleston.  The staff at Trident Tech provided the support I needed, both mentally and emotionally, as I slowly made the transition from military to civilian life.  Without their assistance in and out of the classroom, my attempt at achieving a higher education, and new career, would have been a failure.
Why did you initially decide to enroll at Trident Technical College?
Trident Tech was my initial choice because entering a four-year university, seven years removed from school, was not in my best interest.  Family and friends suggested that attending Trident Tech would ease the transition back into the classroom and provide a great foundation for my future education.  They were right.
When did you graduate, and with what credential?
2006, Associate in Arts.  I went on to receive a Bachelor of Arts in History Education from SC State University.  I also am certified to teach social studies, grades 7-12, in the state of South Carolina.
What were the primary factors that affected your academic success at TTC?
The comforting classroom atmosphere provided by the instructors was the primary factor leading to my success at TTC.  I learn best in smaller classrooms in which you can develop a relationship with your fellow classmates and instructors.
Did you receive any other kind of support from TTC faculty and staff or even your fellow students that was especially helpful for you?
I was a member of the club MOMAHS (Mentoring Our Male African American and Hispanic Students).  The group provided a positive atmosphere in which I could study and meet other students with similar goals as myself.  MOMAHS definitely gave me the emotional and academic support I needed at a trying time in my life.
Support was also provided to me by several staff members whose names require mentioning:  Mr. Osei Chandler, Mr. Randy Grimes, Mr. Vincent Ashby, Mr. Randy White, Mr. Donald West and his adjunct instructor Mr. Erich Robinson, Ms. Noel Paris and Ms. Charnette Singleton.  They all provided support for me in their own unique way, and they always will have a special place in my heart.
What are your responsibilities in your current position?
As a Park Ranger at Fort Sumter National Monument my basic responsibilities include:
Educate, interpret and inform the public about the significance of Fort Sumter National Monument, Fort Moultrie, Charles Pinckney National Historic Site and Liberty Square.
Create interpretive programs, events, brochures, and text for current and future exhibits.
Increase Americans' awareness of their National Parks, the work of the NPS in their communities and instill a life-long desire to experience these special places.
Preserve and protect the natural, cultural, historical, archeological and paleontological resources of the park.
Do you feel TTC prepared you well for success in this position?  If so, in what ways?
Mentoring programs such as MOMAHS are great for students who need academic as well as moral support, as I did.  TTC's outstanding history department also provided me with the insight needed to begin my career in a job that requires an extensive knowledge of this country's past.
Where do you see yourself five years from now?
I see myself continuing my career as a Park Ranger for the National Park Service, as well as being heavily involved in sharing my experiences and knowledge of our state's history with the local communities and schools.
Is there anything else you would like to share with us?
I would like to thank everyone at TTC for all of their support both inside and out of the classroom.  I could not have done it without you.  Thank You.