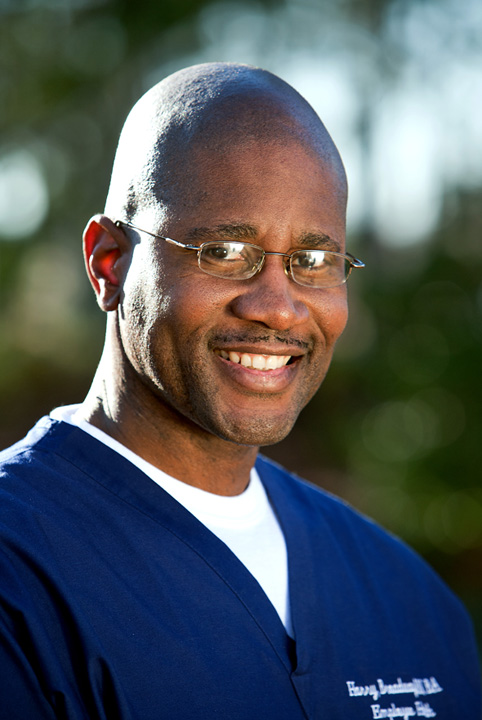 Harry Broadway graduated from TTC in 2007 with an associate degree in Nursing.  He is currently the Lead Occupational Healthcare Nurse for the Roper St. Francis Healthcare System.
Would you say that your experience at Trident Technical College "changed your life?"  
Trident Technical College changed my life personally and also infused new blood into the nursing profession.  TTC provided the means for me to obtain a quality education and training in an ever-growing career field.  The Trident experience was incredible.  The convenience of the campus location and the opportunity to connect with instructors and advisors on a one-on-one basis was great. Considering the fact that I had a bachelor's degree before enrolling into the nursing program, TTC helped to build a plan of action specifically for my personal needs.  This type of organizational structure motivated and fueled my personal desire to complete the rigorous nursing program at TTC. Thanks to the TTC nursing program, I am making a difference in the community, which in turn is helping to make me a more compassionate and knowledgeable person.   The atmosphere maintained at the institution is excellent for a working adult with obligations and commitments that span far outside the realm of the traditional college student.  During my time at TTC, I connected with many individuals from all walks of life, which helped in my overall growth and development.  TTC has an excellent program that only has the opportunity grow and impact the local community in a positive way.  I would recommend this institution of higher learning as a starting point for anyone looking to make a change and a difference.
Why did you enroll at Trident Technical College?
I enrolled at Trident Technical College because it was the right fit for me with work and school.  After careful research of the local nursing programs, TTC was the most appealing.  TTC provided convenience with location and cost in an accelerated program.  This increased my flexibility to manage commitments to family and work.
What were the primary factors that affected your academic success at TTC?
Small classroom settings and hands-on instruction had a major effect on my success at TTC.
Did you receive any kind of support from TTC faculty or staff members that was especially helpful for you?
Several nursing instructors and other staff members played a vital role in providing support.  Much of the support was provided during the initial stages of the nursing program.  This includes prerequisite, nursing courses and staff members in the writing center:  Cathy Brannigan, Kelly Mayes, Donna Pittman, Jacqueline Ford and Rosey Cherban.
Do you feel TTC prepared you well for success in your current job?
Yes I do.  I truly absorbed four years of nursing material in two years.  It was challenging and rewarding, but it also prepared me for "real" nursing.
Where do you see yourself five years from now?
I see myself still contributing and growing within the field of healthcare in five years.  The opportunities are endless in the nursing sector.  They range from the clinical setting to management and operations.  I am receiving a great deal of support with my current healthcare team and employer.  I would like to continue building my experience level in my current occupation over the next five years and branch out into healthcare consulting as a long-term goal.
Is there anything else you would like to share with us?
The nursing program at TTC is excellent.  The content of the program prepared me for all levels and phases of nursing.  The program also provided me with guidance in leadership and development in the field of healthcare.