What can I do in medical laboratory technology?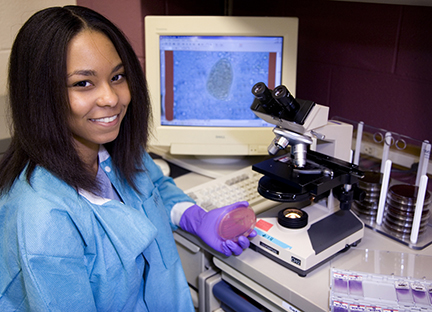 Working under the supervision of a medical laboratory scientist (MLS), a medical laboratory technician (MLT) performs routine tests in all areas of the clinical laboratory. A medical laboratory technician searches for basic clues to the absence, presence, extent and causes of diseases. This skilled individual is responsible for performing laboratory tests efficiently and accurately for high-quality patient care (from ASCP).
Medical laboratory technicians perform routine clinical laboratory tests in areas such as clinical chemistry, hematology/hemostasis, immunology, immunohematology/transfusion medicine, microbiology, urine and body fluid analysis, and laboratory operations.
Explore laboratory practice areas:
What characteristics and skills do I need to work in this field?
To be successful in this field, you should have an aptitude for math and science and an innate curiosity. Medical laboratory technicians need to have an analytical mind, strong organizational skills, the ability to think independently and solve problems, and an attention to detail.  Communication skills are critical, as MLTs must interact with other health care professionals and patients.
Where can I work?
Medical laboratory technicians work in laboratories in a variety of practice settings, such as hospitals, urgent care centers, independent laboratories, physician offices and clinics, specialty or research laboratories, military and public health facilities, and industry.
Health Information
As a response to the increasing prevalence of COVID-19, many clinical facilities are instituting vaccine mandates for their employees and students who are completing clinical rotations at their site. Trident Technical College (TTC) Health Sciences students are placed in clinical facilities, including long-term care skilled nursing facilities, that are requiring the vaccine and/or routine testing. Many of these agencies are not providing options for signed declinations or waivers. If an agency allows the option to submit a waiver or declination, it will be reviewed and approved/denied based on the agency guidelines. While TTC does not currently have a specific policy mandating COVID-19 vaccines for employees or students, the TTC Health Sciences policy states that many Health Sciences programs require that students must be eligible and able to attend all clinical rotations at sites the programs utilize for clinical practice. Therefore, students in the TTC Health Sciences programs must meet any and all eligibility requirements mandated by the clinical facilities. This is not a TTC initiative, but a requirement imposed by many of our clinical facilities. Health Sciences education programs are mandated by accreditors to provide students with clinical experiences and are not obligated to provide substitute or alternate clinical experiences based on a student's request or preference. Just as the clinical facilities require other vaccines, they have the authority to mandate the COVID-19 vaccine. Health Sciences program accreditation bodies have no obligation to waive their current rules/regulations regarding clinical experiences for unvaccinated students. To ensure equitable treatment of all students, TTC Health Sciences programs do not customize student schedules for any reason other than a documented disability; however clinical courses are usually not eligible for accommodations.
Please note: Clinical experiences are integral to Health Sciences education. If a student cannot complete the clinical requirements for any reason, the student is not eligible to progress in Health Sciences programs.
What does Trident Technical College offer?
Trident Technical College's Medical Laboratory Technology program offers a combination of lecture, laboratory and clinical education in hematology, clinical microbiology, clinical chemistry, immunology, urinalysis and blood banking.
The MLT program admits 20 students each Fall Semester: it is a full-time daytime or part-time daytime program; part-time, evening, and/or online options are available for prerequisite coursework.
The MLT program affiliates with numerous laboratories in the Charleston and surrounding areas to provide clinical experiences for students under qualified supervision. The MLT clinical coordinator assigns students to sites based on availability. Students will be assigned to more than one site for their clinical rotations.  Students are financially responsible for any transportation or lodging costs that may result from clinical site assignments.
Clinical affiliation agreements require participating students to have current CPR certification, major medical insurance, professional liability insurance, criminal background checks/drug screens within 90 days of attending clinicals, selected immunizations and titers, and safety and orientation training.
Please note: MLT students are exposed to blood and other body fluids during their training. Strict safety guidelines must be followed. Uniforms and personal protective equipment are required for MLT student laboratories at the student's expense.
The medical laboratory is a growing field of medicine and offers many different opportunities for advancement. The MLT faculty can provide you with more information about these opportunities if interested.
For more information: The MLT program has online information sessions or you can contact the MLT program coordinator.
Accreditation 
The Medical Laboratory Technology program is accredited by the National Accrediting Agency for the Clinical Laboratory Sciences (NAACLS), www.naacls.org. Upon graduation, students are eligible to take a national certifying examination, earning the designation Medical Laboratory Technician (MLT) by the American Society for Clinical Pathology (ASCP), www.ascp.org.
Program Mission Statement
The Medical Laboratory Technology program at Trident Technical College is an associate degree program aimed at providing students with a high quality education and excellent clinical skills which students will utilize to become successful professionals in the field of clinical laboratory science.
Program Goals and Philosophy
The program subscribes to the college's mission to provide quality education and promote economic development in Berkeley, Charleston and Dorchester counties by preparing the student for opportunities and responsibilities in a rapidly changing global environment.
The program emphasizes the role of the medical laboratory technician in maintaining the value of human life in a changing health care environment.
Accessible and responsive to the needs of the multicultural community, the college provides the tri-county area with competent medical laboratory personnel who have quality marketable job skills.
As an integral part of Trident Technical College, the Medical Laboratory Technology program seeks to provide an environment of educational excellence.
MLT Program Learning Competencies
The Medical Laboratory Technology program prepares the student for employment as a medical laboratory technician (MLT).  The program is designed to foster the development of the entry-level competencies that meet requirements for NAACLS accreditation. Graduates of the program should be able to demonstrate the entry-level competencies required for professional practice.
These competencies are:
Collecting and processing biological specimens and other substances
Performing analytical tests on blood, body fluids, cells and other substances
Recognizing factors that affect procedures and results in pre-analytical, analytical, and post-analytical phases, and taking appropriate actions within predetermined limits when corrections are indicated
Performing and monitoring quality control within predetermined limits
Performing preventive and corrective maintenance of equipment and instruments or referring to appropriate sources for repairs
Applying principles of safety
Demonstrating professional conduct and interpersonal communication skills with patients, laboratory personnel, other health care professionals, and with the public
Recognizing the responsibilities of other laboratory and health care personnel and interacting with them with respect for their jobs and patient care
Applying basic scientific principles in learning new techniques and procedures
Relating laboratory findings to common disease processes
Establishing and maintaining continuing education as a function of growth and maintenance of professional competence
Associate Degree
Important Links