What is an immigrant?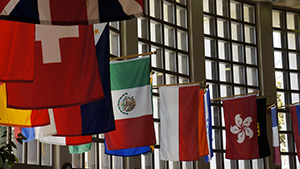 An immigrant is a foreign national who has been granted the privilege of living and working permanently in the United States. You must go through a multi-step process to become an immigrant. In most cases, USCIS must first approve an immigrant petition for you, usually filed by an employer or relative. Then, an immigrant visa number must be available to you, even if you are already in the United States. After that, if you are already in the United States, you may apply for permanent resident status (if you are outside the United States, you will be notified to go to the local U.S. consulate to complete the processing for an immigrant visa). For more information, visit the United States Citizenship and Immigration Services website.
Permanent Resident Card
The Permanent Resident Card, Form I-551, is issued to all permanent residents as evidence of alien registration and their permanent status in the U.S. The card must be in your possession at all times. This requirement means that you are not only required to have a valid Form I-551 at all times, but also that you must carry your valid Form I-551 on your person at all times. The Permanent Resident Card currently is issued with 10-year validity. Your status as a permanent resident does not expire with the 10-year validity (only the card expires). The card is only valid up to the expiration date and must be renewed before it expires.
A conditional permanent resident is issued a card valid for two years. To remain a permanent resident, the conditional permanent resident must file a petition to remove the condition during the 90 days before the card expires. The conditional card cannot be renewed. The condition must be removed or permanent resident status is lost (see Form I-751 and Form I-829 on the United States Citizenship and Immigration Services website).
The Permanent Resident Card (either unconditioned or conditional) can be used to prove employment eligibility in the U.S. when completing the Form I-9 for a new employer. It can also be used to apply for a Social Security Card and a state-issued driver's license. The card is valid for readmission to the United States if the trip is not greater than one year in length. If a trip will last longer than one year, a re-entry permit is needed.
Admission Requirements for Permanent Residents
Create an account on Apply Now and complete the online application. Once you have completed and submitted your application, you will be able to view any supplemental items needed and monitor the processing of your application on your Apply Now account.
Copy of your Permanent Resident Card (front and back) must be submitted with application. If your PR status is still pending, you have received an extension or you are renewing/replacing your PR card, submit any documentation or notice from USCIS showing your status.
Qualifying test scores for TTC's Placement Test or qualifying SAT or ACT scores. If you have taken equivalent English and math courses at another U.S. college or have earned a bachelor's degree or higher at an U.S. institution, you may be allowed to exempt all or part of the placement test if transcripts are provided. A degree earned abroad does not waive the placement test.
Students who have attended schools, colleges or universities outside of the United States are required to submit a professional credential evaluation to show the equivalent academic credential in the U.S. education system. To be considered for transfer credit, the evaluation must be an official course-by-course report that is sent directly to TTC by the evaluation service or submitted in a sealed envelope.
All other general admission requirements for the college apply.
Refugee and Asylum Status
Refugees are individuals who have been displaced by war, famine and civil/political unrest. Asylum is a form of protection granted to individuals in the United States who have been persecuted or fear they will be persecuted on account of their race, religion, nationality, membership in a particular social group or political opinion.
Applicants that have refugee or asylum status and can show proper documentation will be accepted under out-of-state residency classification until DHS grants permanent resident status. The admissions requirements are the same as for permanent residents.
Deferred Action for Childhood Arrivals
Under the Deferred Action for Childhood Arrivals (DACA), applicants that have been granted deferred action by USCIS must provide the appropriate documents to support their claim if planning to attend an institution of higher education.
Employment Authorization Card issued by Department of Homeland Security (DHS)
A valid state issued ID or driver's license
Proof of high school graduation or GED
Social Security card
Documentation sufficient to demonstrate that you have graduated from high school may include, but is not limited to, a high school diploma from a public or private high school or secondary school, or a recognized equivalent of a high school diploma under state law, including a General Education Development (GED) certificate.
Applicants that are under the deferred action for childhood arrivals will be accepted under out-of-state residency classification.
*Due to state and federal licensing requirements there are some programs of study that DACA students are not eligible for. We recommend all DACA students to meet with our International Admissions Coordinator while they are selecting their program of study.
Important Information
If your Permanent Resident Card does not have any expiration date, then you have a very old version and you have to apply to renew it.

The Office of International Admissions monitors the expiration date of your Permanent Resident Card. One semester before the expiration date on your Permanent Resident Card a hold will be placed on your student account, which will prevent you from registering for or withdrawing from classes. Therefore, know when your card will expire and renew it on time. Contact the international admissions coordinator at 843-574-6325 or jacqueline.cunin@tridenttech.edu if you have a hold on your account and provide documentation about your status.

When you apply for U.S. citizenship and you become a U.S. citizen, please submit a copy of your Certificate of Naturalization. Your student file will then be removed from the Office of International Admissions and any hold will be removed.

In most cases, if your Permanent Resident status is still pending, you do not qualify for in-state tuition and fees. Being a Lawful Permanent Resident of the United States does not automatically make you a resident of South Carolina for tuition and fee purposes. For more information see the Residency website.

When to notify the International Admissions Coordinator:
To report a change of address and/or phone number
To report a name change or receipt of a Social Security Number
Before changing your major or program of study
To report a change in enrollment status
When becoming a U.S. citizen
If you have a hold on your account