DoD Cybersecurity Scholarship Program
The Department of Defense Cybersecurity Scholarship Program (DoD CySP) is accepting applications for the 2023-2024 season. The purpose of the program is to recruit and retain cyber and IT specialists to enhance the nation's cyber posture.
Non-DoD students at Trident Tech currently enrolled in the Cybersecurity, Network Systems Management, and Information Systems Technology Associate in Applied Science Degree programs may to apply based on meeting all eligibility requirements. If selected for the program, students will complete their academic programs and train with the DoD amongst a number of components within it. After graduation, students are required to work for the DoD for a minimum of one year for each year of scholarship support they receive.
To start the process, applicants need to create a DoD CySP account through the DoD CySP website.
https://www.dodemergingtech.com/cyber-scholarship-program-cysp/
Please fully read all eligibility rules and TELL ME MORE links before starting an application. It is critical that you understand and will submit to all requirements in this program. Most of your questions regarding eligibility and qualifications can be answered by reviewing these areas.
Eligibility Requirements: https://www.dodemergingtech.com/how-do-studentsapply-for-a-dod-cyber-scholarship/
This is a highly competitive national program. There are some additional considerations that must be met for this opportunity. If you do not meet all of the criteria, please speak with your Academic advisor. These are just a few.
All applications must be US Citizens and must qualify for security clearance.
All undergraduate student applicants must have a 3.2 out of 4.0 GPA
You must also be mobile and willing to move to the location of their internship/final service obligation location.
All males 18 and older, must register for selective service.
The DoD CySP - Recruitment Program is not applicable to current DoD civilians or active duty military. There is a separate portion of the DoD CySP geared to those members that will be released at a later date.
Microsoft Cybersecurity Scholarship Program
The Microsoft Cybersecurity Scholarship Program supports community college degree and industry certificate completion through scholarships (up to $500) and subsidies for cybersecurity certification exam costs (up to $375). Financial assistance is intended to cover short-term basic needs, such as food, rent, health-related, transportation/car issues, and/or a laptop/device. Applications are accepted on a rolling basis.
For more information, click here.
Cybersecurity touches many areas of interest. The work of a cybersecurity professional is more than the stereotypical picture most people have of a computer science major or a hacker. Cybersecurity has something for everyone! Whatever your interests and skills, there's an exciting job for you.
For more information, click here.
October is National Cybersecurity Awareness Month. This year's overarching message for the month, "Do Your Part. #BeCyberSmart". For more information, click here.
2022 National Cybersecurity Virtual Career Fair
Sept. 16, From noon-4 p.m. ET
The 6th annual National Cybersecurity Virtual Career Fair, sponsored by National Cybersecurity Training and Education (NCyTE) Center and the CAE in Cybersecurity Community, is right around the corner! Our career fair brings together students and alumni from over 300 institutions across the Nation designated as Centers of Academic Excellence in Cybersecurity with employers offering internships, temporary, part-time, and full-time employment.
Employers will begin reviewing resumes early before the event.
Don't have a resume? TTC can assist you.
Job seekers should register here.
Please forward any additional questions to:
Jane Cothran, CAE POC
Cybersecurity Instructor, Trident Technical College
Jane.Cothran@tridenttech.edu
Or
Terry Richburg
Director, Network Systems Management and Cybersecurity
Trident Technical College
Terry.Richburg@tridenttech.edu
The Cybersecurity and Infrastructure Security Agency (CISA) is hosting a Cybersecurity Hiring Fair June 29, 2022, 11 a.m.–4 p.m. EST. CISA's Cybersecurity Division is hoping to fill dozens of positions. 
When: Wednesday, June 29, 2022 | 11 a.m.-4 p.m.
Where: Virtual Career Event
Audience: IT/Cybersecurity Professionals
How to Register: To register, please click the CISA's Cybersecurity Hiring Event link.
Events: https://www.cisa.gov/hiring
Applying to Opportunities: https://www.cisa.gov/careers
Network Systems Management Department wins 2021 Red Hat Academy of the Year Award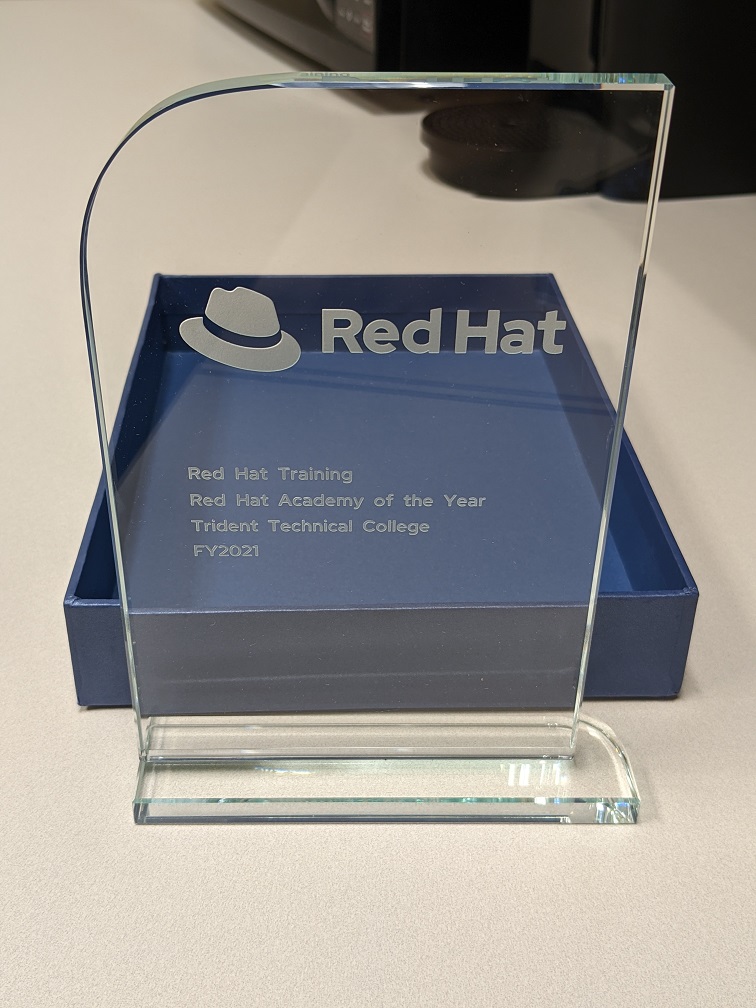 The Network Systems Management Department at Trident Technical College has earned the Red Hat Academy of the Year Award for FY2021. The department teaches Redhat Linux, which is one of the primary Operating Systems used to manage and secure Enterprise size networks. The program teaches Network Systems Management and Cybersecurity students to effectively support business network environments and also prepares them for Industry certification exams including the Red Hat Certified Systems Associate (RHCSA) and Red Hat Certified Systems Engineer (RHCSE).
According to Terry Richburg, Department Head of Network Systems Management, this award is recognition of the outstanding team effort in supporting our student success learning Linux. We have outstanding instructors and staff in the department that enable our students to get the most current technology training. Red Hat Linux is one of the most challenging and critical skillset for students pursuing careers in Cybersecurity.
Red Hat recognized us based on the highest enrollment and the scope of classes taught.
3CSv Community College Cyber Summit Virtual 
March 1, 2021 
It's not too late to register! Register at Community College Cyber Summit Virtual (3CSv) (my3cs.org)
3CSv is an experiment in providing a more interactive, virtual forum - different from most virtual conferences where presenters simply talk at the participants. This event is not to be confused with the face-to-face 3CS, Nov. 5-7, 2021 at Sinclair Community College in Dayton, OH.
LinkedIn:
3CS
David Tobey

Twitter:
@3CS3CS
Trident Technical College NSM Faculty member Tonya M. Davis is hosting a Program Development Workshop in the morning break-outs.
3CS (In Person)
Nov. 5-7, 
2
02
1, Dayton Ohio
2021 Community College Cyber Summit | Cybersecurity Higher Education (my3cs.org)
3CS is the only national academic conference focused on cybersecurity education at community colleges.
The 2021 Community College Cyber Summit (3CS) at Sinclair Community College in Dayton marks the eighth annual edition of 3CS. Previous summits took place at Moraine Valley Community College near Chicago (2014), College of Southern Nevada in Las Vegas (2015), Community College of Allegheny County in Pittsburgh (2016), Prince George's Community College in Maryland (2017), Mt. Hood Community College in Oregon (2018) and Bossier Parish Community College in Louisiana (2019), and virtually (2020). 
3CS is organized and produced by the National CyberWatch Center, National Resource Center for Systems Security and Information Assurance (CSSIA), and National Cybersecurity Training and Education Center (NCyTE), which are all funded by the National Science Foundation (NSF). The outcomes of 3CS leverage community college cybersecurity programs across the nation by introducing the latest technologies, best practices, curricula, products and more.
CAE Announcement: Intelligence Community Virtual Fall Career Fair and NSA Live Series
Aug. 13, 2020 1–7 p.m. EST
The National Security Agency cordially invites you to join us at the Intelligence Community (IC) Virtual Career Fair to learn more about our exciting career opportunities. Detailed information about the event are below and attached. Yes, the IC is hiring!
Go to https://icvcf.6connex.com/event/ICVCF/fall2020-att/register Space is limited! To guarantee your entrance into this event, pre-registration is highly encouraged. To register, click on "register now" located on the right-side navigation on the IC Virtual Career Fair site.
NSA is providing students, recent graduates and experienced professionals with many opportunities to meet with us online this fall. Browse our schedule below and take advantage of these interactive events to learn more about NSA and chat with NSA recruiters and subject matter experts. While you wait for new updates, visit NSA Careers to view open positions or take a look at our JET Tool to explore how your unique background and expertise match an exciting career at NSA! https://www.intelligencecareers.gov/NSA/nsavirtual.html


Intelligence Community Virtual Career Fair Flyer
Intelligence Community (IC) Virtual Career Fair March 25, 2020
The United States Intelligence Community (IC), an integrated network of agencies that work together to protect our nation's security, is seeking a culturally diverse, technologically savvy and skilled workforce for exciting careers in a number of fields. Join us at the IC Virtual Career Fair to explore career opportunities, chat with recruiters and learn how to apply for job openings.
Register today because space is limited!  ICVirtualFair.com
NSA LIVE - Spring 2020 Webinars
Got burning questions about what it's like to work at the National Security Agency? Now·s your chance to get answers from real NSA employees. Not only can you listen in - you can also ask questions during these live webinars.
All you have to do is register for any of these events is by visiting https://www.intelligencecareers.gov/NSA/nsalive.html
Five products in the National Cyber Awareness System offer a variety of information for users with varied technical expertise. Those with more technical interest can read the Alerts, Analysis Reports, Current Activity or Bulletins. Users looking for more general-interest pieces can read the Tips.
The US-CERT Current Activity webpage is a regularly updated summary of the most frequent, high-impact types of security incidents currently being reported to the US-CERT.
News and important communications from the Department of Homeland Security can be found at the link above.
Cyber criminals do not discriminate; they target vulnerable computer systems regardless of whether they are part of a large corporation, a small business or belong to a home user. Cybersecurity is a shared responsibility in which all Americans have a role to play. The STOP. THINK. CONNECT. ™ Toolkit provides resources for all segments of the community.
Find press announcements and periodicals on cybersecurity news here.
The CERT Division is a leader in cybersecurity. It partners with government, industry, law enforcement and academia to improve the security and resilience of computer systems and networks.