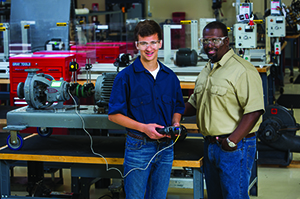 Industrial mechanics repair and maintain commercial or industrial machinery.
Duties include:
Reading technician manuals to understand equipment and controls.
Disassembling machinery and equipment when there is a problem.
Repairing or replacing broken or malfunctioning components.
Performing tests and running initial batches to make sure machines are running smoothly.
Adjusting and calibrating equipment and machinery to optimal specifications.
Industrial mechanics are employed across the manufacturing spectrum in a variety of venues, buildings, industrial complexes, plants and factories.
Back to Charleston Regional Youth Apprenticeship Offered