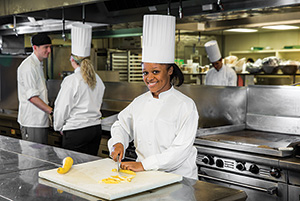 Chefs prepare meals in restaurants and wherever food is served. 
Duties include:
Checking freshness of ingredients, developing recipes and determining how to present food.

Planning menus and ensuring uniform quality of meals.

Maintaining inventory of food and supplies.

Inspecting supplies, equipment and work areas for cleanliness and functionality.

Monitoring sanitation practices along with following professional kitchen safety standards.
Culinary professionals are employed in a variety of settings including restaurants, hotels, resorts, corporate centers, banquet halls, country clubs, schools, hospitals—even the White House.