Orientation
New Student Orientation Dec. 4-7
Sessions available 10 a.m. and 2 p.m.
Student Success Center (formerly The Hub), Bldg. 500
Discover exclusive information:
Unlock the magic of the TTC Student Portal.
Explore the Navigate platform.
Sign up for some epic courses.
Save the date: Orientation Celebration Dec. 8!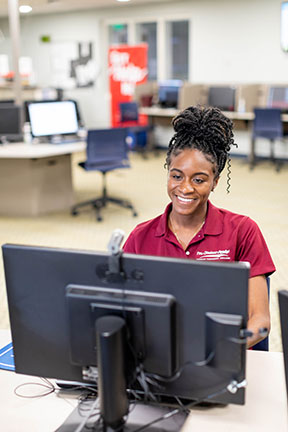 Orientation is an important step where you learn how to use the different technology systems, access important resources and prepare you to register for classes.
Begin your orientation experience after submitting your Trident Technical College Admission Application. Shortly after applying, you will receive an email with your my.tridenttech.edu student portal login information. Complete orientation online or in person.
PLEASE NOTE: Workforce Training programs are professional development and personal interest courses that do not award academic credit but are eligible for continuing education units (CEUs). You do not have to apply and be admitted to the college to take these noncredit courses. Learn more.
In-person
Stop by the Student Success Center (formerly The Hub) at the Thornley Campus or at one of the other campuses.
Online 
Complete the four steps below for a successful online orientation experience.
Log in to your student portal.
Login instructions are found on the Student Login Help page. Access the student portal at my.tridenttech.edu.
View your technology platforms on your student portal page:
TTC student email: Once you are admitted to the college, all official communication comes to this account. Check this account regularly.
Access My Courses (D2L) is the online learning software to access your enrolled courses. Access is granted one week prior to course start date. 
Set up your emergency alert information at TTC EAS under bookmarks. (Video Help)
Student Self-Service (under bookmarks) hosts your financial aid and billing information. View grades/GPA, change of major, unofficial transcript, etc.
Navigate is an online advisement tool for orientation, academic planning and registration. 
Etrieve is a platform where students access and submit TTC forms: Admissions Application Update, Student Appeal System, Change of Major, Change Student Name and SSN, and many other TTC forms.
Navigate your path to success.
Select Navigate to get started.
Complete the required steps to online orientation: intake survey, My Major, review To-Do's and resources.
Watch how-to videos.
Select quick how-to videos to learn about Navigate and Trident Tech resources.
View video instructions on how to schedule an appointment, drop or withdraw from a class, register for courses and more.
Complete orientation.
Complete Steps 1 through Steps 3 of online orientation. Go to the To-Do's section of Navigate and mark that you completed your orientation online.
Once your orientation is completed, schedule an appointment with your success coach (formerly navigator) or advisor to register for classes. Be sure to attend the appointment or reschedule if you find you can't make it.