The Hub can help.
College is a big step, especially now. With so much going on, you might feel overwhelmed and not know where to start. At The Hub, we make things easy for you. We will navigate you through the admission and registration process - no worries!
Work with a Navigator or Hub staff.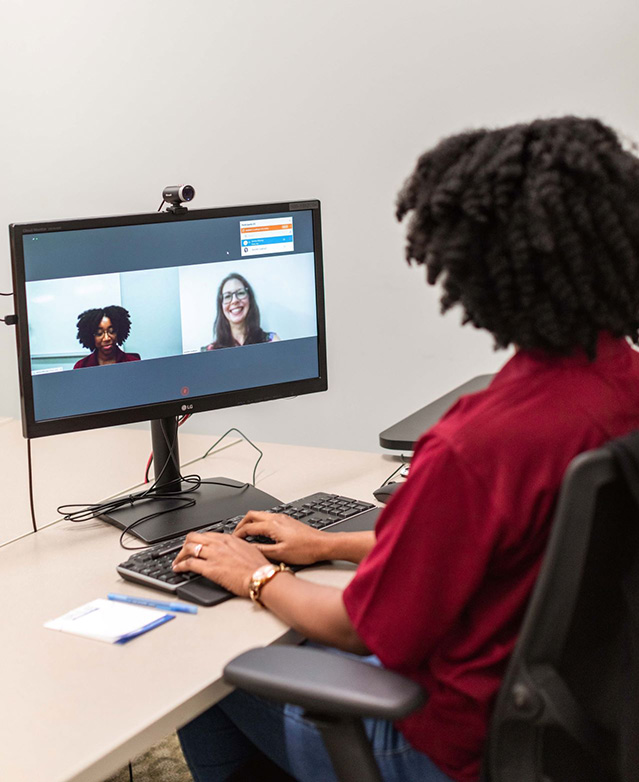 New students are assigned a personal Navigator within 24 hours of applying to the college. The Navigator assists with general help and guidance throughout the enrollment process. Haven't applied yet? Complete the online application to get started.
Whether you want to use The Hub remotely or on campus, we've got you covered!
Call 843-574-6436.


Email thehub@tridenttech.edu.


Use the 24/7 chat feature at www.tridenttech.edu.


Meet via video call.
Your Navigator will set it up and send you an invitation.


Complete an online Navigate Your Path to Success session or visit The Hub in person.
We encourage you to contact The Hub via phone or email to schedule an appointment. This allows us to control the number of people in the building and provide the best possible service. If you visit The Hub without an appointment, staff will assist you as promptly as possible, but you may have a wait time. Please note: All of Trident Technical College's campuses are open to the public. For mask policy, click here.  If you are sick, we ask that you remain at home and contact The Hub to reschedule or conduct business remotely.


Already have a Navigate account? Schedule an appointment with your Navigator through your Navigate.
Trident Tech has flexible course options to fit your life! 
| | |
| --- | --- |
| Summer 1 | June 1-30 |
| Summer Full  | June 1-Aug. 9 |
| Summer 2 | July 12-Aug. 10 |
| Fall 1 | Aug. 23-Oct. 12 |
| Fall Full | Aug. 23-Dec. 10 |
| Fall 2 | Oct. 20-Dec. 10 |