Celebrating Scholarships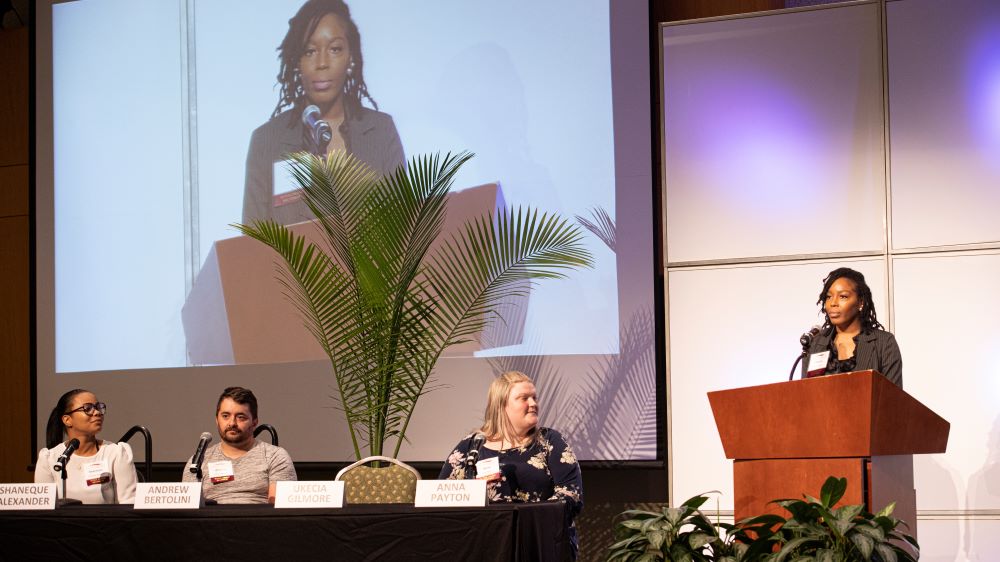 The transformative power of education and community support were on full display at the 2023 Scholarship Luncheon on April 4, honoring the 2022-23 scholarship recipients and donors.
More than 160 students, friends and donors were at the event, which was sponsored by Bank of America. 
The event kicked off with a special Q&A between TTC President Mary Thornley and TTC Area Commission Chair, Anita Zucker, during which Zucker shared her story and explained why education is such an important part of her life. 
As the child of Holocaust survivors who immigrated to the United States with $200 and two suitcases, Zucker learned resilience and the importance of family. She felt the pull toward education from a young age, and when she was 12, she went to work as a summer camp counselor.
"My family couldn't send me, so I figured out my own way to get there," she said. "I worked there four summers and loved it, affirming my desire to become an educator."
With the same resourcefulness, Zucker came up with a plan to skip her senior year in high school and instead take classes at Sante Fe College, a two-year college in Gainesville, FL.  She convinced administrators to allow her to transfer those credits back to her high school for her diploma.
"I guess you could say it was an early version of dual enrollment," she said.
Zucker began her adult life as a married, full-time, non-traditional student. She and her husband, Jerry, both attended the University of Florida and worked full-time. Always entrepreneurs, they also owned a lunch counter, where they met every day after school to prepare all the food for the next day's lunch.
"It was a deli, so we cooked the corned beef and other meats and made salads and sandwiches. Jerry made a mean meatloaf." she said. "We were very young, but we accomplished a tremendous amount."
Jerry passed away in 2008 at the age of 58, after a battle with cancer. Knowing they only had so much time, Jerry taught Anita everything she needed to know about their business holdings, including The InterTech Group.
"I had 21 months to learn everything," she said. "It changed me as a person, I basically had to 'become him' and threw myself into the business."
"Grief can overtake you if you allow that to happen," she added.
Because of her own two-year, non-traditional college experience, Zucker started her relationship with Trident Tech in 1987. She joined the TTC Foundation Board of Trustees while Jerry was active on the Electrical Engineering Advisory Committee.
She said it was immediately apparent that Trident Tech is the answer to workforce development, not just for InterTech, but for the entire community.
She was appointed to the Trident Technical College Area Commission by the legislative delegation in 2007 and began a two-year term as chair in 2022.
"My whole family knows this institution," said Zucker. "Without education, you don't have opportunities in life. It gives you the means to access everything."
When Dr. Thornley asked her for her advice to students, Zucker responded: "I urge you to work hard and complete your education, nobody can take that away from you."
As far as her philanthropy, you won't get very far on Trident Technical College's campus without running into the Zucker name, as they have donated millions to the college through the years.
Zucker's message to the donors in attendance?
"Thank you for recognizing the needs of our young people. Through your philanthropy, you are providing so many wonderful opportunities for people to live and be happy," she said.
After an inspiring conversation with Mrs. Zucker, Dr. Thornley called the four student panelists to the stage for the Q&A panel portion of the program.
As she asked them all questions from her podium in the back of the room, luncheon guests got to know the students, learn what brought them to the college and how receiving a scholarship has impacted their lives.
Originally from Jamaica, Shaneque Alexander received the Roper St. Francis Physicians Endowed Nursing Scholarship.
Alexander was working at Roper St. Francis when she decided she wanted to be a nurse. She'd see the nursing students coming to the hospital to complete their clinicals and heard the experienced nurses praise TTC graduates as the most prepared graduates they encounter. The more she learned about TTC's program, the more she wanted to be a student here.
"It is my dream to provide critical care with compassion and kindness to patients and their family members," she said.
She still works at Roper full-time as she completes the nursing program. As a 32-year-old mother of two, Alexander said it is a challenge and she does have help from her partner.
But Shaneque said she has very high standards for herself.
"I work hard and am very competitive," she said. "My mother didn't finish high school and she instilled in us a very strong work ethic. She used every struggle and disappointment as a platform for her lessons to us."
When asked what it means to her that others choose to fund scholarships so she and her family can have a better future, Alexander replied, "To be seen and acknowledged for your input and sacrifices by other people is overwhelming. It is great to believe in yourself, but it is more incredible when people believe in you." 
Anna Payton never thought she would be able to go to college due to a condition that causes her to have chronic, daily migraines. She is sometimes unable to read, which makes academic studies almost impossible, and she is not able to drive.
"It just wasn't safe. When I was in high school, I hit a few too many curbs and realized I should quit driving." She admitted.
Payton is working toward an Associate of Arts degree, to which she has added American Sign Language.  She plans to be a sign language interpreter, helping hearing-impaired individuals communicate online using video. She will be able to make her own hours and work from home, factors that will be particularly helpful as she manages her condition. 
When asked by Dr. Thornley how her classes are going, she responded with a modest "fairly well" to which Thornley replied, "What do you mean 'fairly well?' You've got a perfect 4.0!"
Payton said receiving the Green Barr Scholarship helped her with all the costs associated with her continued education, and it also touched her, knowing that others see her efforts to become a productive member of society.
"I barely finished high school," she said. "So, it's heartwarming to know that people believe in me."
From a young age, Ukecia Gilmore wanted to open her own childcare center.
"I come from a family of educators – it's in our blood," she replied when asked how her family background affected the way she thinks about college and the world.
"My family is passionate about helping children reach unimaginable dreams. I have aunts and uncles who fought to have justice and equality in our schools. I feel as though I am obligated to work hard because they sacrificed so much for our family's legacy."
Gilmore is already a teacher. Employed by the Charleston County School District, she is in her 15th year and currently teaches the 4th, 5th, and 6th Montessori grade level.
She decided to come to Trident Tech because she knew a member of her church who went through the Early Child Care Education program and then opened her own childcare center.
"She was also a bit older than traditionally-aged students, so I thought, if she could do it, so could I," said Gilmore.
Though a degree in early education is not required to open your own center, she wanted to have the foundation for the students she would be serving so that she would have the background and knowledge to help them thrive.
"There is a lack of quality childcare in the North Charleston community," she said. "And I want to give back to the community that provided me with a strong foundation."


Andrew Bertolini commuted four days a week from Columbia to take classes at the Culinary Institute of Charleston at Trident Tech.
"Sixty-five thousand miles and three cars later, I was finally able to move closer," he said. 
This is not Bertolini's first college experience in Charleston. After graduating from high school, he was offered a full-ride ROTC scholarship to The Citadel.
"But unfortunately, I broke my leg – not once, but two years in a row," he said. "I lost my chance to go active duty."
A Culinary Arts and Hospitality major, he said he chose Trident Tech because when was looking online for a culinary school, he came across the biography of Chef Kevin Mitchell, an instructor at the Culinary Institute of Charleston. He read about his background and that led him to Trident Tech's website.
Bertolini worked in the food and beverage industry for 15 years before he found Trident Tech. His dad encouraged him to enroll and said, "Why not go get a free education that can allow you to better yourself?"
It has been a successful journey so far. He received the Bill Hall Entrepreneurship Endowed Scholarship and the Brett Maynard Memorial Endowed Scholarship, both named after individuals that he is very familiar with and honored to represent.
"Because of the scholarships, I will be graduating from college having paid nothing out of pocket," he said and then laughed, "Well, except for gas money!" 
More than 400 scholarship awards totaling over $400,000 were awarded to students during the 2022-23 academic year. The luncheon was a great success and joyous occasion celebrating students and donors.
Staff 5/17/23