Perseverance Pays Off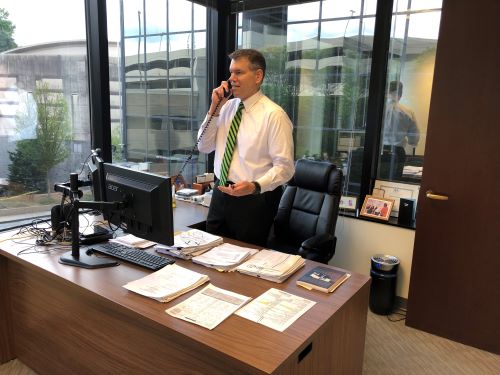 "You're a nice guy, but I don't think you have what it takes to be an attorney."
Those were the words Trident Technical College alumnus Duncan Harle heard when he was applying to law schools, something that would cause many people to give up all hope.
But it only made him more determined to reach his goal.
Harle was always interested in law but wasn't sure how to go about it. One of six children, his family moved to the Charleston area when he was 13.  He graduated from Fort Johnson High School and went to college.
"But I wasn't focused, and my grades suffered as a result," said Harle.
He was offered a job at 97 FM WXTC and 1390 AM WCSC Radio, starting as a board operator and working his way up to announcer. It was there that he found his confidence, working alongside talented professionals who taught him about the radio business and life.
One day his mother fell ill and was taken to the hospital. While visiting her there, she grabbed his hand tightly and said, "I want you to promise me you will go to law school."
Remembering something he heard a long time ago – that whatever you dreamed of being as a child is the vocation in which you will be the most fulfilled – he agreed.
Thankfully, his mother turned out to be fine. But her request motivated and inspired him to finally go after his dream. He started reading books in the public library about trades, vocations and professions.
He learned about a new and rising field of study called "paralegal studies" that was being offered at Trident Technical College, and he quickly enrolled.
It was at Trident Tech where he discovered his true passion for the law. He also found instructors who inspired and encouraged him.
"At Trident, I met several professors who took an interest in me academically and encouraged me to go on to study the law," said Harle.
They convinced him he could achieve his goals. They believed in him when he didn't believe in himself.
It wasn't because he didn't have support. Harle's parents were always very encouraging of him. His father was a lithographer, and his mother was a nurse. He was especially impacted watching his mother during her own educational and career journey. When she was younger, she took classes at a two-year community college to become a Registered Nurse (RN), then balanced motherhood with school while she continued her education, eventually earning her master's degree.
"We lived near Philadelphia, and I remembered my mother bringing us to the University of Pennsylvania where she graduated with a bachelor's degree in nursing," said Harle. "She would sit us down in the classroom next door to hers and tell us to be good."
But even with the best support system in place, deciding what you want to do with the rest of your life can be incredibly daunting.
Buoyed by their encouragement, Harle made the Dean's list and graduated from Trident Tech in 1990. He immediately went to work for a family court judge in Charleston, an experience that allowed him to grow and learn more about the field of law. He went on to earn his bachelor's degree from Southern Illinois University.
But when it came to applying for law schools, Harle experienced standardized test anxiety, so his test scores were low and he was not accepted into the schools he applied to.
"It was a very competitive time, during the days of TV shows such as "LA Law" and "Law and Order", many wanted to be a lawyer," he said.
Harle decided to go back to school to get his master's degree in public administration, in hopes of bettering his chances of being accepted to law school. Once he finished his MPA, he reapplied to law schools. This time he wrote letters and made phone calls to deans, seeking interviews.
Once again, he was turned down. When he spoke to one administrator, he was told, "Look, you're a nice guy. But I don't think you are cut out to be a lawyer."  
Harle was disheartened but persevered – he was determined to reach his goals. He obtained a tutor to help with the LSAT entrance exam and was eventually accepted into a law school in Atlanta. 
Duncan has been with the same law firm, John Foy & Associates, in Atlanta, for over 16 years. In 2020, he was promoted as the very first managing attorney for the firm.
He believes that the instructors at Trident Tech, who took the time to know, teach and shape him, made a tremendous impact in his life.
 "'It is in your moments of decision that your destiny is shaped,'" Harle says, quoting Tony Robbins.
"Deciding to follow my passion and attending Trident Tech was the best thing I could have done."
5/16/23