Interested in future offerings of Podcasting courses? 
Contact Glenn Seale, Film, Media and Visual Arts Dean at Trident Technical College, at 843.574.6519.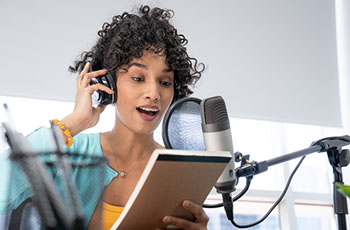 Podcasting Level 1 - Podcasting Basics
Learn everything you need to know to chart your course in the exploding world of podcasting. Experience this fun and informative overview of what you need to know when you are planning a podcast. Participate in discussions about the gear you need and the software and hosting options that are available to you. You will also learn important creator and production tips, as well as post launch next steps to help your podcast break through. Then, brainstorm the viability of your podcast concept in a constructive and creative setting.   Curriculum topics covered include: what is podcasting and how is it different from radio and other audio and video; what's working – top genres and how you can break through; what gear you need; software and microphone hands-on demonstrations; recording at home; hosting options; recording and production basics; and release schedules.
COURSES AVAILABLE FOR REGISTRATION*
Course ID: XMAP-508
Class ID: 17673
Format: ClassRoom
Location: Thornley Campus - 950 Building
$189.00

Start Date: 03/12/2024
End Date: 03/26/2024
Class Details
---