To ensure the safety of TTC employees, students, and visitors, employees are working on-campus and remotely. On-campus wait times may be longer than normal due to staffing limitations. We encourage you to access our services online or by phone whenever possible. To schedule an appointment, please call 843-574-6119 or email
stuemploy@tridenttech.edu
. PLEASE NOTE: If you choose to schedule an on-campus appointment, you must wear a mask.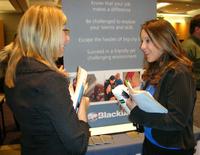 Student Employment Services provides assistance in resume writing, interviewing, effective job search and workplace skills. Additionally, the offic
e lists jobs from nearly 2,000 employers in the tricounty area and beyond. Students can search these jobs online and post a resume for employers to view. Employer services include job listings, on-campus recruiting and interviewing, a resume database and an employer library. Trident Technical College hosts a large career fair each spring.
Contact Info
Student Employment Services
Our office offers access to two computer stations for job searching and resume writing as well as a library of self-help guides and many brochures from local and national companies. Stop by and use these resources in your employment search!
Thornley Campus
Bldg. 500, Rm. 201
Monday-Friday, 8 a.m.-5 p.m.
843-574-6119
Fax: 843-574-6645
General Inquiries
stuemploy@tridenttech.edu
Jennifer Pinckney
Career Specialist
843-574-6119