The college is reopening its campuses June 10. However, to ensure the safety of TTC employees and visitors to campus, a minimal number of employees will be working on campus; most will continue to work from home. On-campus wait times may be longer than normal due to staffing limitations. We encourage you to access services online or on the phone whenever possible. If you choose to visit a campus, please be aware that you must wear a mask to receive in-person service.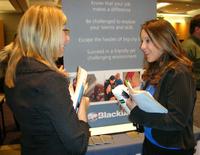 Student Employment Services provides assistance in resume writing, interviewing, effective job search and workplace skills. Additionally, the offic
e lists jobs from nearly 2,000 employers in the tricounty area and beyond. Students can search these jobs online and post a resume for employers to view. Employer services include job listings, on-campus recruiting and interviewing, a resume database and an employer library. Trident Technical College hosts a large career fair each spring.
Contact Info
Student Employment Services
Our office offers access to two computer stations for job searching and resume writing as well as a library of self-help guides and many brochures from local and national companies. Stop by and use these resources in your employment search!
Thornley Campus
Bldg. 500, Rm. 201
Monday-Friday, 8 a.m.-5 p.m.
843-574-6308
Fax: 843-574-6645
General Inquiries
stuemploy@tridenttech.edu
Jennifer Pinckney
Career Specialist
843-574-6119

Shagueta Johnson
Administrative Assistant
843-574-6308