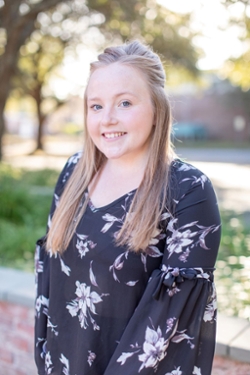 My story starts in Pennsylvania, in late October 1999, when my mother found out she was pregnant. Any mother would have usually screamed for joy upon hearing this, but my mother was frightened.
Prior to her marriage and realization that she had conceived a child, she had been treated for stomach ulcers and other gastro complications. The drugs and testing they gave her for this diagnosis, first affected me while I was still in the womb.
Even before I was a completely formed human being, I was faced with insurmountable problems that I would have to overcome later in life. The drugs caused a whole host of problems such as compound scoliosis, springles deformity, Chiari malformation, and many gastro complications.
None of us choose when, how, or what kind of life we are born into. I can say that without a doubt, I am grateful for the life I was given. Without the obstacles I've faced, I wouldn't be nearly as strong and independent as I am now. The constant rollercoaster of pain throughout my life has given me a new light on what I really am capable of doing even whenever there were many days that I felt and did not want to push on. Every challenge, every setback, and every downfall was just one more opportunity to get back up and return stronger. My entire life has been impacted and defined by my health problems, but my actions and choices have shaped me and led me to where I was destined to go.
My education has always been the most important aspect of my life ever since I was in grade school. I constantly convinced myself I was not doing well enough until I realized I had already gotten an A for the final grade.  Every time I have felt that feeling of discouragement, I looked back on how many times I have overcome my challenges. It was this change of mindset that always kept me going. That was how I continuously pushed myself to reach to be the best. Despite all of my challenges, I put the most effort into my education. Just as I had received my high school diploma, I became eligible for corrective surgery for my compound scoliosis.  Immediately after my senior graduation party, I was going under anesthesia and being laid onto an operating table where the doctors would cut a sixteen-inch incision down the center of my back to put two rods and 16 screws in to straighten out my spine.
The recovery following the surgery set my education back almost a year and a half. It physically stopped me from pursuing my dream and brought on a depression that would take more effort to overcome than I ever realized. The surgery that I received was not the only one that loomed over my head. Three other surgeries or procedures would be needed to solve the other list of complications. I felt that no matter where I would turn, some problem would be sitting patiently around the corner ready to stop me in my tracks.
Despite my complications and surgeries, I remain determined to achieve a master's degree in business management. I will be the first in my family to do so. There have been many twists and turns along the way, but fortunately, my path led me to Trident Technical. Trident has shown me nothing but warmth and hospitality from the very start. I needed an affordable option that gave me a good education to tackle the incredible number of credits and knowledge needed for a master's degree. I knew I had made the right choice when I first began taking classes. The coursework was not easy by any means, but the teachers gave me everything needed to complete the class and excel. I made the dean's list since my first semester and have maintained it since. Completing my schooling is the most important goal that I have, and Trident is helping me achieve that dream.
While in school, I started two small businesses with my partner. I wanted to grab the bull by the horns and kickstart my business career in the most basic but meaningful way. Our first business is an inflatable rental for children's parties and the second is an online jewelry store. Our mission is to offer an option for lower-income families who want to give their kids a memorable experience for their celebration. We try to be the most competitive in the area while providing a top-quality service that parents and event planners can have peace of mind knowing they will have a great party with top quality, that is caring and friendly.
My entire life I have strived to be the best I can be. My worst enemy has often been myself, but I have come to adapt and accept the parts of me I can't change. Self-acceptance and sheer will are the two main driving forces behind my success so far. However, without the support of my family, I could not have achieved what I have. At every step, I have become wiser and more prepared for what lies ahead. I intend to use every asset given to me by Trident to achieve my degree and build my own profitable company that truly puts the customer first. The world has become so cold with so many recent tragedies. If I can build a company that gives back to a hurting but beautiful community, then I will have served my purpose and made Trident proud.