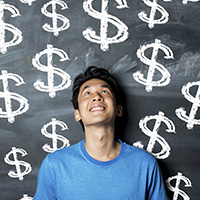 You must be an eligible degree-seeking student to receive financial aid. Financial aid can be split into two main categories: financial aid that requires you to complete a FAFSA and financial aid that does not require a FAFSA. Because some scholarships require a FAFSA for consideration, a FAFSA is highly recommended. Visit www.fafsa.gov to complete the FAFSA.
TTC awards your financial aid based on the assumption that you will enroll as a full-time student taking at least 12 credit hours in the semester. If you take fewer than 12 hours in the semester, TTC is required to reduce your aid accordingly. Your credit hours for the semester are divided between two 7-week terms. The number of credit hours you take in each term will affect when your aid is issued and how much of your financial aid can be applied to your student account each term.
If it supports your academic and personal plans, and if you are financial aid-eligible, you should strongly consider enrolling in six hours in the first term because certain kinds of aid require that students are not only enrolled in a certain number of credit hours, but that they are actually sitting in those classes.
Financial Aid Refunds
Two primary refund disbursements are made each semester for students who have completed the financial aid process including verification. Refunds are made in approximately the third week of the term. The amount of the refund is pro-rated per term, based on credit hours and other factors. Please note: some students may receive no refund if taking fewer than six credit hours in Term 1. However, they may qualify for a refund when enrolled in and attending six or more credit hours. For financial aid refund examples, click here.