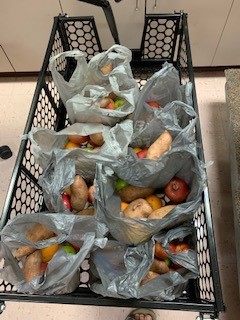 Students make financial sacrifices to go to school. The Grocery Vault exists to make it easier for students to complete their programs despite these financial sacrifices. The TTC Grocery Vault is located at the Palmer Campus in downtown Charleston, but there are pickup points at other campuses, as well as other delivery options for those without reliable transportation. Clients do not need to provide any financial information, and the Vault is open to all in the TTC community. 
Shop Online for Free Groceries on Fridays
Students, faculty and staff can select free items at this online order form by noon on Fridays to pick up the next Thursday.
Pickup will be held on Thursdays each week between 10 a.m. and 4 p.m. at one of the designated pickup points. 
Additional Food Resources
Do you want additional resources beyond the TTC Grocery Vault to fill up your kitchen cabinets? Check out the links below.
Other Resources
We have now partnered with SCThrive, which will allow you to do one application to apply for additional state and federal benefits to support your educational goals. You can meet with one of our counselors on any of our campuses to fill out the application, call 800-729-8774, or apply online here.
We also offer a Clothes Closet, run by the student organization, the Clemente Coalition. You can come pick out new clothing on the Palmer Campus in Rm. 107. Contact the advisor, Dr. Mary Ann Kohli, at mary.kohli@tridenttech.edu for the current schedule. 
In addition, the TTC Foundation Urgent Needs Fund assists students who have an unforeseen financial emergency which would otherwise prevent them from continuing to attend TTC. Contact frank.morea@tridenttech.edu for more information. 
Neighbors Together offers hot meals, a food bank, housing support and other help to the community. 
If you would like to make a donation to support the TTC Grocery Vault, please see below.
Donate canned goods: Start by completing this Google form.
Donate money: visit this webpage and enter your information and Grocery Vault under "Designation." You can also submit a check with Grocery Vault in the memo line to the TTC Foundation at:
TTC Foundation
P.O. Box 118067
Charleston, SC 29423