Please join us for one of the Trident Tech Virtual Open House events in October.
Oct. 13, 4 p.m.: New Students
Oct. 14, 4 p.m.: Military/Veterans/Dependents
Visit Trident Technical College from wherever you are! Learn about the college and how to become a Trident Tech student.
Take a virtual tour and get an overview of the college.
Learn about the admission process.
Get financial aid information.
Hear from a Navigator, who guides new students as they apply, choose a program of study and register for classes.
Ask your own questions.
For additional questions please contact Mark Yearty at 843-574-6346.
Complete the Virtual Open House registration form to sign up. We look forward to seeing you online!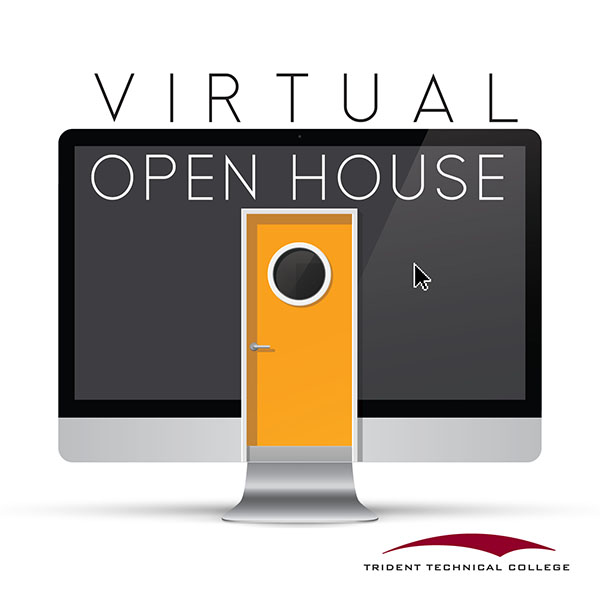 Important Fall Semester 2020 Information
Registration for Fall Semester is open. Trident Technical College will only offer classes with skills-based, hands-on requirements on our campuses this fall. The majority of classes will be held online. Please check the fall course offerings on the course search page. New students must complete the admissions process before registering for classes. The first step is to submit an admission application.
All TTC campuses are open and the college is using DHEC, CDC and OSHA guidance for social distancing, proper hygiene and use of PPE to ensure students and employees are kept as safe as possible. These measures include the mandatory use of masks, reconfiguration of work spaces in offices and labs where needed, installation of barriers where appropriate, and the closure of common areas. Additional safety efforts include making hand sanitizer widely available, marking spacing for queues and posting signage explaining safety protocols and expectations for behavior while on campus.