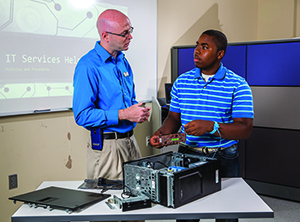 Computer network technicians provide help and advice to people and organizations using computer software or equipment.
Duties include: 
Testing and evaluating network systems.

Performing regular maintenance to ensure networks operate correctly.

Troubleshooting local area networks (LANs), wide area networks (WANs) and Internet systems.                     
Computer networking professionals usually work in an organization's IT department where they help analyze, troubleshoot and evaluate computer network problems. They play an important role in the daily maintenance of an organization's networks by finding solutions to problems as they occur.