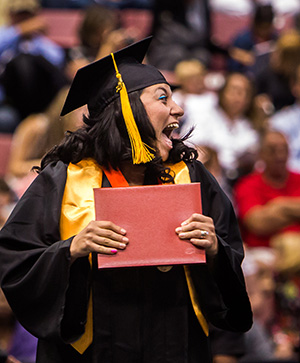 The graduation ceremony is one of the biggest and best events at Trident Technical College, when thousands of students realize their dreams of earning a degree, diploma or certificate.
TTC holds one ceremony per year. The 2017 Graduation Ceremony for Fall 2016, Spring 2017 and Summer 2017 graduates is Friday, May 5, 7 p.m., at the North Charleston Coliseum.
Students can apply for graduation in person at the Registrar's office (Main Campus, Bldg. 410) or online. For an online application, visit my.tridenttech.edu > TTC Express > Academic Profile. For information on ordering regalia and invitations and other graduation information, visit my.tridenttech.edu.
Graduation fairs occur during Spring Semester at all campuses to assist graduates in completing graduation application requirements by the graduation ceremony and application deadline. Graduates will receive emails and announcements in the student portal about the dates and times for the fairs.
The 2017 Graduation Ceremony and application deadline is Tuesday, Feb. 28.